Whether you're an experienced swimmer or you have never been in the water before, starting to swim as an adult or taking adults swimming lessons for the first time can be intimidating.
Perhaps you don't have any experience, or maybe you think you're too old to take up swimming now that you're out of high school and college.
Either way, there are plenty of reasons to get started with swimming if you've ever wanted to learn, and this guide will help you get started with your first steps in the water.
What is the Best Way to Get Started for Adults Swimming Lessons?
The best way for adults to get started swimming is by taking a beginner swimming class. This will help you learn the basic techniques and strokes needed to swim.
Once you feel comfortable with the basics, you can then start swimming on your own or with a group. Remember to always practice safety first and never swim alone.
Another important thing to remember when it comes to swimming is to only do what feels right for you. Never push yourself too hard or try anything that doesn't feel natural.
These are just some of the tips for getting started as an adult in this wonderful sport of swimming.
What Should

i Buy When Starting Adults Swimming?
If you're just getting started with swimming, there are a few things you'll need to buy.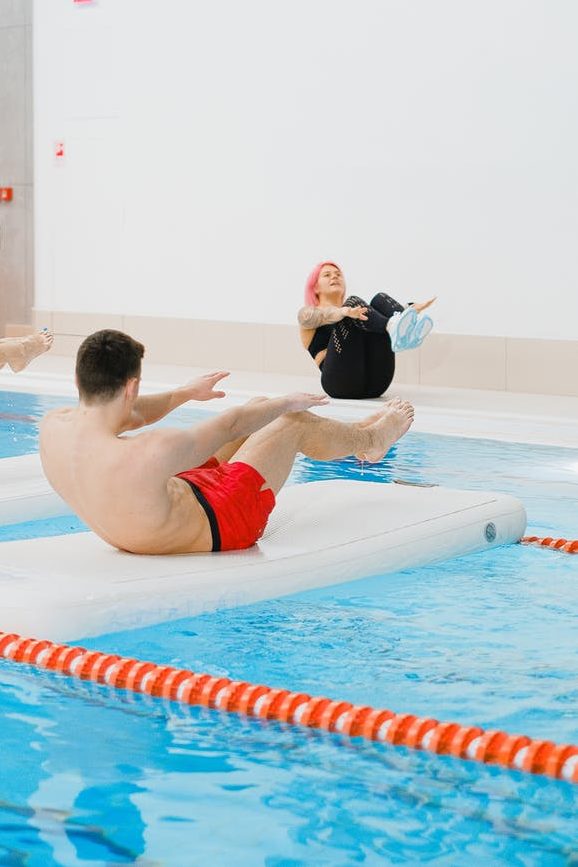 READ ALSO: Core Aquatic Skills: 10 Important Aquatic Skills You Need to Know
What are the Basic Skills Needed for Adults to Swim?
The basic skills needed for adults swimming are:
The ability to float in the water.

The ability to move through the water.

The ability to breathe while swimming.

The ability to swim with proper technique.
While these are the basic skills needed, it is also important for adults to be able to swim with proper form and practice drills regularly to improve their swimming abilities.
In addition, adults need to know how to properly react when they have an emergency such as a near drowning situation.
Adults must have all of these skills before entering a swimming pool alone, or without supervision from a professional instructor.
What are the Safety Precautions Needed for Adults Swimming?
While swimming is a relatively safe sport, there are still some risks involved. To minimize these risks, it is important to take some safety precautions. Below are some safety precautions you should follow:
First and foremost, before diving into any new swim activity, talk to your doctor about your fitness and the best way for you to get started.

You should always wear a life jacket when swimming in open water.

You should swim with a buddy whenever possible and avoid swimming alone.

You may also want to speak with an instructor about what lessons would work best for you before signing up for anything.

You must be sure that you know how deep the water is before jumping in and take care not to inhale any water as this could lead to drowning.

Finally, be sure to know your limitations and never push yourself beyond your comfort level.
READ ALSO: Learn How to Swim for Adults: Best Step-by-Step Guide
How Often Should i Swim?
You should swim at least three times a week to see results. Swimming is a great workout because it has low impact and is easy on your joints. It is also a great way to get some cardio in without feeling like you're working out.
Start by swimming laps for 20-30 minutes at a time. If you're just starting, you can swim slower laps or do shorter intervals. As you get stronger, you can increase the intensity of your workouts.
Increase the number of sets, interval length, lap speed, etc. It's important to remember that swimmers are notorious for overtraining so be sure not to go too hard too soon.
7 Benefits of Swimming For Adults
Swimming is a great workout for people of all fitness levels.

It is a low-impact form of exercise, so it's easy on your joints.

It is a great way to get your heart rate up and improve your cardiovascular health.

It can help you lose weight and tone your muscles.

It is a great way to relieve stress and relax your body and mind.

You can swim with friends or just by yourself.

You don't necessarily need a pool, you can swim in any body of water, such as the ocean or lake.
There are no membership fees for some government swim lessons, no expensive equipment costs, or fancy facilities required. The only investment you will make is time and some effort to develop a routine.
READ ALSO: 7 Swimming Techniques That Will Save Your Life
Conclusion
Swimming is a great way to stay in shape, relieve stress, and have fun. But if you're new to the pool, it can be a little daunting.
As an adult, this guide will help you get started swimming, from finding the right swimsuit to learning the basics strokes. Soon you'll be enjoying all the benefits of swimming without even thinking about it. To keep up with swimming and learning the strokes, this guide will help you with the step by step process.